Alex Clare, He's Gone
Hidden under the surface of an apparently everyday, even mundane at times, police procedural whodunnit, by new author Alex Clare, lie a handful of neat twists. The cleverest twist, encountered on its front cover, is the book title itself. The intentional double meaning of "He's Gone" describes both the disappearance of a young kidnapped or killed boy, and the gender dysphoria and real life experience of a transitioning male-to-female lead detective.
"The double meaning in the title is quite deliberate. It's meant to show that Robyn is here to stay." – Alex Clare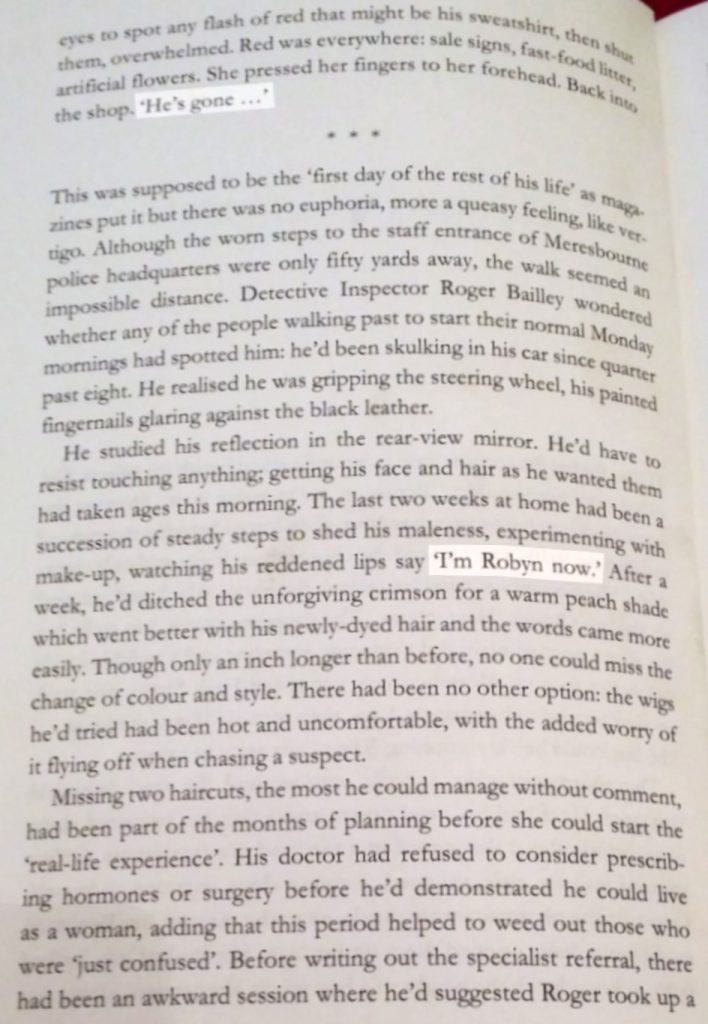 Robyn was Detective Inspector Roger Bailley, that is, until the day they return to work as Robyn. Then, on their first day back at work, facing every trans person's "Real Life Experience" (it used to be called a test) nightmare, they are launched into a missing persons case and on day two, a body is found. Now, that is not every trans person's typical transition at work scenario. These two clashing worlds, Roger/Robyn's inner one and the outer reality of a serious crime, are blended together well in this debut novel by, sometime corporate commuter, Alex Clare.
The focus on day-to-day details of police procedures, internal force politics, in-tray and waste bin descriptions, and fears of your boss and Professional Standards constantly checking your progress on both the crime(s) and your own transition at work, rooted Robyn in reality, not fantasy.
At times, that reality, as someone all too familiar with being transgender, was painfully raw and depressing. Being one of the first books to tackle this subject in fictional form with sensitivity, rather than exploitation as crossdressing serial killer or exotic sex object, makes it groundbreaking. Although there have been others such as Gore Vidal's Myra Breckinridge (1968) and Patrick McCabe's Breakfast on Pluto (1998), among a few more, they have tended to concentrate more on sexuality and the erotic rather than the practical dilemmas of transition itself.
The daily facing of colleagues, public, family, and the media, are treated well, and resonated as closer to fact than fiction. The constant sniping, media intrusion, initial family rejection, even the workplace bullying and transphobic vandalism, none of these are sensationalised but instead rather realistically realised.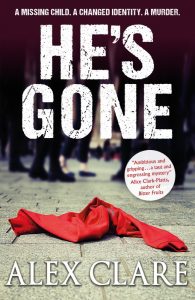 The inspiration came, in 2013, from the author's watching of the UK Parliament debating the Equal Marriage Act and the intensity of feeling it created. She, therefore, invented a fictional literary world to explore some of the issues and attitudes:
"Some of the opinions horrified me, people being defined and condemned by a single aspect of their life. The character of Robyn Bailley formed quickly in my mind and I've really enjoyed telling her story and what she has to face to live a normal life." – Alex Clare, author of He's Gone
The dilemma, for me as a very much non-conforming non-binary trans person, was that at times it plays into the hands of stereotyped trans tropes – the obsession with time spent in front of the mirror, makeup, clothing, voice, tucking, pronouns, name and ID documents. These are less criticisms than my personal preference for a gender non-conforming trans role model, even a fictional one, as some comic books have done. It is understandable, however, why these features have been described, and, on the whole, embedded without taking over from the book's plot.
I did wonder at a few things including why her police warrant card had not been updated speedily by the police as part of her transition at work plan, and similarly that her Gender Identity counsellor "insisted on skirts" and make-up to "demonstrate she was living as a woman" (p.80). Advice that seemed about 3-4 years out of date. Such is the pace of NHS GIC improvement that sourcing reference material and other trans people's experiences may already be dated, however much "some of the scenarios, … comments people make … and their reactions are taken from real life."
"There is an active trans community on Twitter and I have read there about real-life experiences and the discrimination suffered. I've tried to reflect these in the book, like the example where Robyn is asked for ID before buying alcohol and doesn't have anything that gives her new name." – Alex Clare, Interview in OmniMystery News
Other minor details, on the other hand, were eerily and sometimes humorously accurate, such as forgetting that women's clothes tend to fasten and button the other way, or that their suits tend to lack pockets. These were gentle insights that I remember well. I've since made a point of buying women's clothes with decent pockets as smartphones do not fit inside your bra these days!
I imagine, for many readers, it may feel as though turning the pages of this book gives insights into the lives and emotional discomfort of many trans people, and it does – but there's not just one type of trans person, and there are, indeed, many trans police officers, as well as trans prison officers, fire and rescue officers, and perhaps up to 1% of people in all walks of life who experience some form of gender dysphoria that may lead to hormonal and/or surgical transition.
I would love to see Robyn's character develop, for her to touch base with trans support groups and find peer advice. I certainly went through a phase of obsessing over hyper-feminine stereotyped presentation myself, fortunately for me it lasted barely six weeks before I discovered Dr Martens and comfortable clothes! Robyn's own transitioning at work journey is just 10 days old by the end of the book so I am being somewhat hyper-critical in expecting much evolution of trans personal awareness or feminism 101 in that short timeframe.
The first plot twist, with respect to the crime itself, I didn't see coming, but the second I guessed straight away, but then watching it play out and come up with the proof was interesting. I found the mid-book anti-climax like a reboot, and the second half more interesting than the first from a crime fiction point of view, and by which time characters were more fully developed. I particularly liked the allusions to a cultish religious group and its holier than thou attitudes to difference and morality. Having once been a part of such beliefs and then been on the receiving end of them, they resonated, painfully.
"How do you find a missing child when his mother doesn't believe you have the right to even exist?" – He's Gone, back cover
It was great to see a preponderance of female leads as victims, suspects, investigators, family members and secondary characters. It also made a change not to have a heterosexual partners sub-plot, whether as cop-buddies or romantic liaison constantly making it about sexual friction and frisson. Instead, it was about Robyn internal relationship with her trans self and her external dealings with fellow police officers and colleagues, not to mention the rather awful mother of the missing child whom you end up thinking doesn't deserve to have her son back. As another reviewer described her, "singularly one of the most deeply unpleasant individuals that one could encounter".
As a character, I felt Robyn needed an ally, someone to confide in and talk to about her feelings and struggles. The dialogue, advice, emotions and humour that that might provide would supply some relief from her inner torture and the laboured process of the Police investigation. Her relationship with her daughter, though, was well portrayed as she struggled slowly to accept her father's transition. Perhaps, she might become an ally in future books, along with a work colleague? I look forward to reading their future character arcs and seeing how DI Robyn Bailley develops.
---
For further details about gender identity dysphoria and transgender workplace issues visit www.genderagenda.net and also the National Trans Police Association (NTPA). Thanks to the publisher Impress Books for the ARC review copy of the book which you will find available from 1 August on Amazon and in book stores. A couple of other reviews from the Blog Tour can be found here.