"This house will become a shrine, and punks and skins and rastas will all gather round and hold their hands in sorrow for their fallen leader. And all the grown-ups will say: "But why are the kids crying?" And the kids will say: "Haven't you heard? Rik is dead! The People's Poet is dead

!"" – The Young Ones
"Bum", I mean "Bottom", Rik Mayall has died a Young One at just 56, the B'stard. The near-30 year married family man was a comedy genius and genuine talent. He will be sorely missed and was working right up to the sudden end, despite his own near-death experience on a quad bike back in 1998 that left him in a coma for days and with epilepsy. Ironically, his most recent project was a Lupus Films/Channel 4 animated comedy about the joys of being dead – "Don't Fear Death"!
Death "is your passport to complete and utter freedom. No pulse, no responsibilities.
Carpe mortem
– seize death"
Mayall and Ade Edmondson were contemporaries at Manchester University – where they also met writing partner Ben Elton, and performed together as 20th Century Coyote, their first performance was an improv called "Dead Funny". As members dropped (not dead) off, the comedy group became a duo, renamed to The Dangerous Brothers, and shifted to London's Comedy Store, where Alexei Sayle compered. Later they started their own comedy club, The Comic Strip Club, which ran out of Soho porn baron Paul Raymond's Revue Bar, whilst conventional adult strip acts performed on the other two stages. This is also where they met Dawn French and Jennifer Saunders, who Edmondson later married in 1985.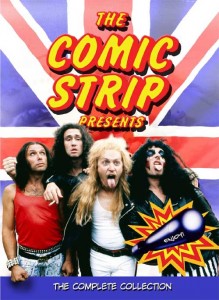 Together they formed the TV series "The Comic Strip Presents…" which ran from 1982, 5 years before French and Saunders aired as a separate series. Their first episode was a parody of Enid Blyton's Famous Five adventures as "Five Go Mad in Dorset".
In 1981 Mayall played "Rest Home" Ricky in Richard O'Brien's Rocky Horror Picture Show follow up musical film: "Shock Treatment". Curiously, Rik has managed to play a Rick, a Ricky and also a Richie, aka Richard Rich in Filthy Rich & Catflap (1986).
In 1991 he got to play a Fred, the eponymous mischievous imaginary friend in the film "Drop Dead Fred". He also squeezed in a Micky in "Eat the Rich" (1987), a Mathias in "Little Noises" (1991), a Marty in "Bring me the Head of Mavis Davis" (1997) and a Mario in "Eldorado" (2012). Not to mention the voice of Prince Froglip in "The Princess and the Goblin" (1991) and Mr Toad in "The Wind in the Willows" (1995).
Another animated character he played was was the voice of Kehaar in the series version of "Watership Down" (1999) and Edwin the Eagle in the spellbinding "Shoebox Zoo" (2004-5). He also played an unnamed man in the pub in "An American Werewolf in London" (1981). In 2000 he managed to play character opposites Robin Hood in "Blackadder: Back & Forth" and King Herod in "Jesus Christ Superstar"!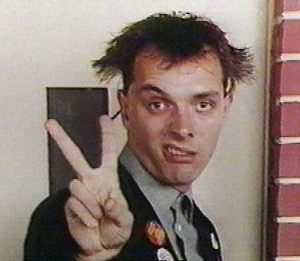 The Young Ones first aired in 1982, the BBC was not entirely convinced, but went ahead to compete with the emerging popularity of Channel 4. Spike Milligan, commenting on Mayall's farting, nose-picking "Rick", described him as the "arsehole of British comedy". (Quoted in McSmith, Andy, No Such Thing As Society: A History of Britain in the 1980s, Constable & Robinson, p149)
Until then most successful comedians and comedy writers had emerged from establishment universities like Oxford and especially Cambridge. Richard Curtis and Rowan Atkinson stemmed from Oxford, whilst Cambridge and its Footlights Theatre produced talent that went on to make Monty Python, The Goodies, Yes Minister, Bremner, Bird and Fortune, Alas Smith and Jones, Fry and Laurie, Newman and Baddiel, Punt and Dennis, and more recent acts like Mitchell and Webb, Armstrong and Miller, Mel and Sue.
Rik portrayed the crude, pompous poet, anti-establishment anarchist and redbrick university sociology student, "Rick" with great energy and voracious vulgarity. In the "Bambi" episode, somehow the four students end up on University Challenge, appropriately competing against Footlights College.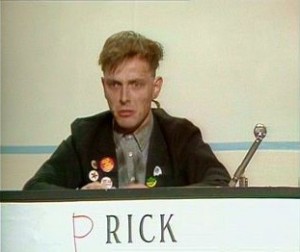 On the show Rick's namecard has a scrawled 'P' added to it and Vyvyan jokes that his name has a silent 'P' before it. In the same episode Neil reads out graffiti from Rick's 'O' Level History text book – "Prick is a wonker – signed, the rest of the class", although Rick dismisses this as classroom banter until Neil then reads out a further scribble – "I agree with the rest of the class – signed teacher".
"I live on the limit, Vyvyan. The limit, because I'm a rider at the gates of dawn and I take no prisoners!" – Rick in The Young Ones
For all his character's pseudo-anarchy Rick seemed to have a conservative background and was a Cliff Richard fan. He didn't seem to know much about the politics he claimed to believe in and was a lazy socialist, in terms of political theory.
"If you're a wild eyed loner at the gates of oblivion then hitch a ride with us, because we are riding on the last freedom moped out of nowhere and we haven't even told our parents what time we are coming home…" from the introduction by Rick to Cliff Richard's "Living Doll" for Comic Relief (1.5m views)
It was no surprise when Rik evolved Rick into slimy sleazy scheming Conservative politician Alan B'Stard in The New Statesman, which ran on ITV from 1987 to 1992 for 4 series. I completely forgot that Vyv's surname was also Basterd in the Young Ones.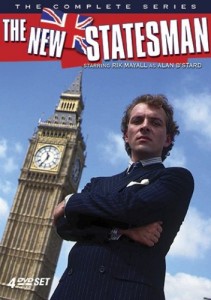 Rik Mayall also reprised Alan B'Stard MP, or rather PM, in a political advertising campaign by the No2AV group in 2011. Parodying David Cameron and Nick Clegg entering into coalition and office together he promised no tax or tuition fees, free housing and electricity, and then gleefully burnt the manifesto and its promises.
"You know the really great thing about a fudged coalition is that neither of us need to carry out a single promise of our election manifestos."
Rather than The People's Poet, the People's Prophet, perhaps?
At the same time as the New Stateman was airing Rik also popped up in Blackadder II and Blackadder Goes Forth, playing the loud lecherous bragging Lord Flashheart. In 2006 he returned to the nobility as Lord Reginald in "SpongeBob SquarePants" (2006).
Whilst Flashheart was crude in an upper class slimy sexist way, Rik returned to the gutters again for "Bottom" (1991-1995). Mostly containing scenes of frying pan bashing and slapstick violence akin to classic Laurel and Hardy or old Warner Bros cartoons. For all its base comedy, Rik and Ade had acted together in Waiting for Godot in 1991 and created Bottom as a crude take on the play. The characters, again a Richie, Richard "Richie" Richard, and Edmonson playing flatmate Eddie Elizabeth Hitler, went on to appear in four series, a film "Guest House Paradiso" (1999) playing Richard Twat, and a touring stage show – "Bottom: Live", which left them in hospital, on occasion! Bottom last toured in 2003 but the 1997 stage version, "Bottom Live 3: Hooligan's Island" nearly made it back to our screens in 2013, but was cancelled due to competing projects that Ade Edmondson wanted to pursue.
One of my favourite banal Bottom scenes from Season 2 Episode 2, bemoaning what to do in the absence of television…
Richie: What about "Pin the Tail on the Donkey"?
Eddie: We haven't got a donkey.
Richie: Well, "Pin the Tail on the Chicken"
Eddie: We haven't got a tail.
Richie: Oh. Well, "Pin the Sausage on the Chicken"?
Eddie: We haven't got a chicken.
Richie: (Annoyed) Well, "Pin the Sausage on the Fridge".
Eddie: Or a pin.
Richie: (Angrier) "Sellotape a Sausage to the Fridge"!
Eddie: We haven't got a sausage!
Richie: (shouting) "Put a Bit of Sellotape on the Fridge"!
Eddie: (Beat) It's not much of a game, is it?
[Richie and Eddie have just played stick a piece of sellotape on the fridge. Eddie won]
Eddie: Who won?
Richie: Ha ha ha ha. Eddie, it matters not who won or lost, but how you play the game.
Eddie: Oh, you mean I won? Ha! Ha-ha. [wets his finger, draws a figure 1 in the air, waves his hands in the air]
Richie: Yes, I suppose so, yeah, I mean if it's so important to you, yes. Yes, you did win. I mean for Heaven's sake, Eddie, it's only a game! [walking away, to himself] Shit, shit
Waiting for Godot, was not his only conventional acting role, he also made a "brilliant debut" as Ivan in Gogol's The Government Inspector at the Olivier Theatre in 1985. Indeed, The Telegraph ran an article back in April this year on the 2012 film Eldorado, "the worst film ever made…weapons-grade awful", in which Mayall played a Verdi-singing, cannibalistic chef, Mario – in contrast to the dire film, his scene stood out as "fairly watchable"!
During the 2000s Mayall was marketed by Playstation on games and ads, to be seen as more "edgy" over Sega's success. The money he made from this bought him a house which he jokingly named "Nintendo Towers".
Such a shame, that like Faulty Towers there were just 12 episodes of the Young Ones, a 1980s classic "sign of the times" series – it always felt like there were many more, I wish there were, and now there won't be a comeback series as The Old Ones, perhaps "only the good die young". The Young Ones page on Facebook has nearly a million likes.
Ade Edmondson had this to say of his long time friend and creative collaborator: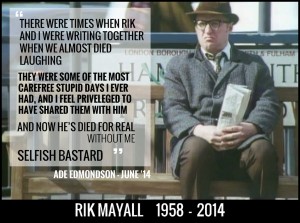 "There were times when Rik and I were writing together when we almost died laughing. They were some of the most carefree stupid days I ever had, and I feel privileged to have shared them with him. And now he's died for real. Without me. Selfish bastard."
Nigel Planer, hippie Neil in The Young Ones, described him as:
"…inspirational, bonkers, and a great life force".
The Guardian described Mayall's characters as "full of life" and "vast mad scribbles, jammed to the margins with noise and energy".
The level of talent portraying anarchist poet Rick and punk revolutionary Vyvyan, and their reprised characters in Bottom is clear when one realises that both men went on to conventional marriage and fatherhood. They both married in 1985 and had 3 kids each. Prior to, and overlapping, that, Mayall had been in a relationship with Lise Mayer, co-creator and writer of The Young Ones, and who is now married to Angus Deayton. He leaves behind his wife, Barbara Robbin, and three children, who if they were ever told how to behave after seeing daddy in The Young Ones and Bottom, must have been a struggle to get to behave!
Bonnie Mayall, Rik's youngest daughter, posted on Facebook:
"We will never forget him and neither will the world, R.I.P to the man, the myth, the legend – my wonderful, generous, foul mouthed and hysterical father."
For a man whose career went from "Dead Funny" to "Don't Fear Death" via a near-death experience in 1998, Rik Mayall died full of life, love and laughter. He leaves behind a comedy legacy that will keep us laughing for many years to come.
[An earlier version of this article appeared here]