This year's "Google goes gay" search style for Pride Month and the Stonewall Inn riots anniversary was a tessellated rainbow background strip to their website menu bar. This is the 7th year running Google has demonstrated its diversity and made the none too subtle statement of support worldwide.

Enter terms like "Gay Pride", "Stonewall riots", "Pride month", "London Pride", "Same-sex marriage" and the strip would visibly transform before your eyes and produce tens of millions of results. Curiously and sadly "Gay Pride" dominated and "LGBT Pride" was ignored. Searches for LGBT, GLBT or LGBTQ were rainbow styled but not the more inclusive LGBTI or LGBTIQ/LGBTQIA, excluding Intersex people from the gender and sexuality spectrum terminology despite inclusive advances elsewhere, such as in Europe, with the shift to LGBTI/Q.

Google has gone "gay" before, last year same-sex marriage was highlighted during Pride Month because of the US Supreme Court Defense of Marriage Act (DOMA) and Prop 8 rulings. Outside of LGBT calendar events Google has also been political in support of LGBT gay rights. It has created 2000+ Google doodles over the years and for the Winter Olympics in Sochi, Russia, it added a far from subtle LGBT activism to its logo doodle by using the 6-banded rainbow flag colours behind various sports events images. The search box would also come up with the Olympic Charter words highlighting inclusivity in sport as an obvious dig at Putin's anti-gay education laws:

"The practice of sport is a human right. Every individual must have the possibility of practicing sport, without discrimination of any kind and in the Olympic spirit, which requires mutual understanding with a spirit of friendship, solidarity and fair play." – Olympic Charter www.google.ru/#q=olympic+Charter
This year, someone has also discovered an "Easter Egg" or hidden coding within Google Docs Sheet (similar to Excel) that turns the entire spreadsheet's column background colours rainbow hues simply by typing P in Cell A1, R in Cell A2, I in Cell A 3, D in Cell A4 and E in Cell A5, spelling out "PRIDE" across the first row columns.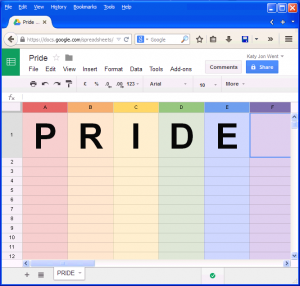 Microsoft's older Excel versions have long had hidden Easter Egg programs buried within, several were full blown racing or Doom style games.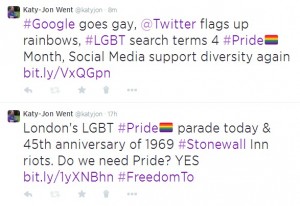 Meanwhile, during this year's Pride weekend, Twitter has interpolated a mini rainbow flag  image anytime the hashtag #Pride was used.
Search Engine Land monitors Google's annual LGBT activist and temporary re-branding of search results. Personally, I think it's great, but it's also clearly far from neutral, or non-partisan. It shows the world's largest search engine is on side, but also political which makes one worry in what other ways it manipulates results and opinion. Read more about this year's Pride parades and Stonewall Inn riot anniversary. [An earlier version of this article first appeared here]