World Bipolar Day
Today and everyday is bipolar day for 2-3% of the population who have a Mood Affective Disorder including Cyclothymia and Bipolar I & II. A day to recognise the issues, struggles, and occasional joys and spurts of creativity – sometimes manic, experienced by people with bipolar, was created to coincide with Vincent van Gogh's birthday, 30 March, since he was posthumously believed to have had a bipolar type condition. World Bipolar Day aims to:
"bring world awareness to bipolar disorders and eliminate social stigma." – International Society for Bipolar Disorders
Bipolar Incidence & Prevalence
Whilst 1-in-100 or 2.6% are commonly cited figures, some studies have shown wide variations, ranging from 2.6 to 20.0 per 100,000 per year, in the incidence of bipolar affective disorder (Lloyd & Jones, 2002). These variations have been e.g., regional, SE London is twice that of Nottingham and Bristol, or by ethnicity, by socio-economic class, by childhood intelligence – especially high verbal IQ, or by hormones and gender – some studies show a much higher incidence in the female population.
"estrogen fluctuations may be an important factor in the etiology of bipolar disorder and it is obvious that more research on this topic is needed to clarify the role of estrogen in women with bipolar disorder…Why is it that rapid cycling occurs more often in women?" – http://www.ncbi.nlm.nih.gov/pubmed/23510130
It also alleged that among artistic and creative types there is a higher incidence of bipolar mood disorders, that may be genetic. Indeed, as many as 40x the national incidence, among a group of 30 American authors, studied over 15 years:
"43 per cent of them had bipolar disorder compared to only 10 per cent of the control group and 1 per cent of the general population." – Bipolar Disorder and Creativity
A further survey of 47 British authors and visual artists from the British Royal Academy found that 38% had been treated for a mood disorder.
"A recent study carried out at Stanford University by Santosa and colleagues found that people with bipolar disorder and creative discipline controls scored significantly more highly than healthy controls on a measure of creativity called the Barron-Welsh Art Scale. In a related study the same authors sought to identify temperamental traits that people with bipolar disorder and creative people have in common. They found that both shared tendencies for mild elation and depression with gradual shifts from one to the other, openness, irritability, and neuroticism (roughly speaking, a combination of anxiety and perfectionism)." – Bipolar Disorder and Creativity
Vincent van Gogh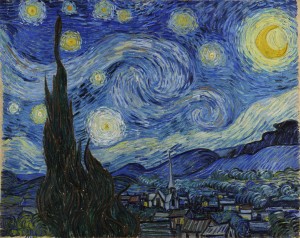 The famous Dutch post-Impressionist painter, Vincent van Gogh suffered quite wild swings in his mental health and many paintings were produced from his asylum room. Van Gogh is thought to have shot himself, after struggling with declining mental health in his mid-30s. He had spent most of the last 18-months of his life in an asylum, but two months later was dead as the result of a presumably, though not proven, self-induced shooting incident or suicide attempt.
Ironically, it was a period when he produced many iconic paintings, some en plein air. His famous image titled 'The Starry Night' was a pre-sunrise nocturne as seen from his East-facing asylum window, but finished in the asylum studio, as he was only allowed to draw in his room, not paint. Van Gogh's beautiful and happier 'Village Street and Steps in Auvers' was painted just days after release from the asylum: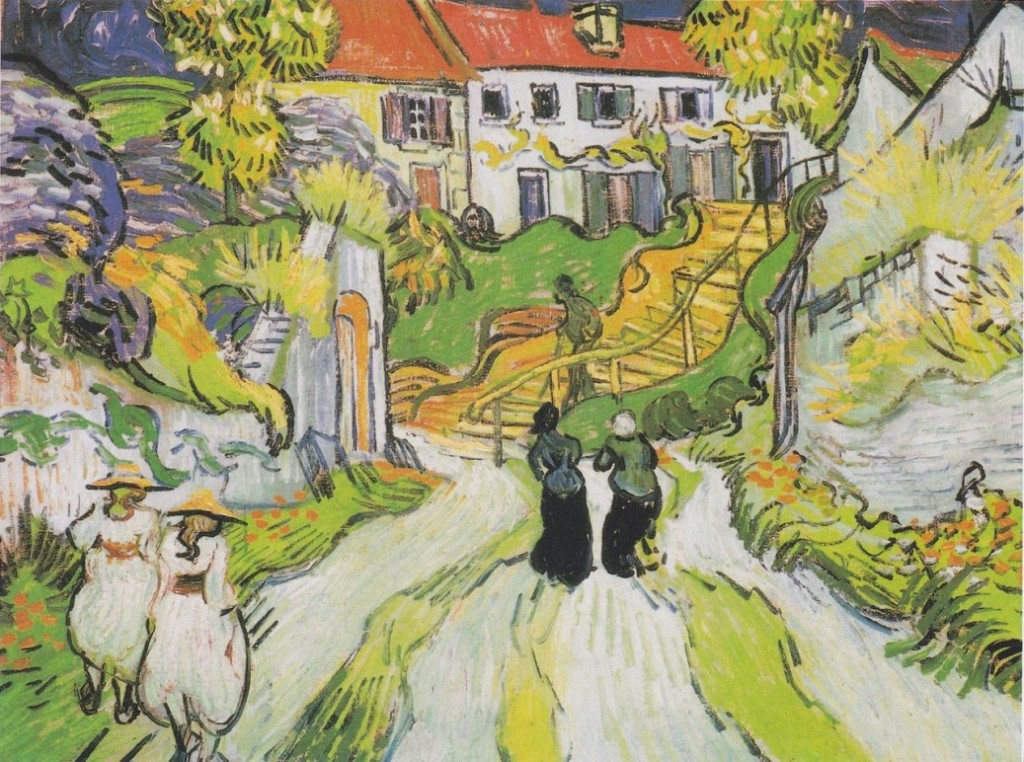 Barely weeks later, and days before his death, he was painting several large wheat fields canvases and in a letter to his brother Theo, he wrote:
"I have painted three more large canvases. They are vast stretches of corn under troubled skies, and I did not have to go out of my way very much in order to try to express sadness and extreme loneliness….I'm fairly sure that these canvases will tell you what I cannot say in words, that is, how healthy and invigorating I find the countryside." – Vincent van Gogh, Letter to Theo van Gogh, 10 July 1890
His late paintings demonstrate an artist at the height of his talent, yet also the depths of his troubles, for whom art and the outdoor landscape was creative catharsis and therapy. What would the art world have witnessed had he lived on?
Bipolar Mood Scale Diary
It is typical for a bipolar diagnosis to take a decade and work through several misdiagnoses en route. I was first diagnosed with Cyclothymia over 4 years ago, but subsequently told it was Mood Affective Disorder and then Bipolar II, along with rapid cycling and mixed mode variations. CBT – Cognitive Behaviour Therapy, helped my management, but so did self-knowledge, awareness, and diarying. I enjoy my hypomanic periods, less so the depressions which I've fought for 12 years or so. Finding balance when you only exist at the poles is a tricky act to accomplish and may involve staying in when you feel like going out and going out when you feel like staying in!
Risks, when hypomanic, for me include inappropriate conversation, loss of impulse control, manic spending, flirting, obsessional behaviours, risk seeking. Yet, the benefits when high are hyperactive stamina and energy, stream of consciousness ideas flooding, huge reading and writing output, charismatic and entertaining confidence and loquaciousness.
"I managed to rack up £300k of credit, hardly average! I was, and indeed am, very convincing when hypomanic, it made me a good salesperson, deal-maker, innovator, public speaker but terrible at time and money management." – May 2013
Having been in a balanced mood state for nearly 3 months now, a rare occurrence, possibly due to recent endocrine changes, I miss the hyper states. I also realise, however, how destructive they could be to life, economics, and relationships, whilst at the same time being a creative buzz. I don't miss the lethargic, inactive, hopeless depressive episodes at all, although they were a great way of avoid life and its stresses.
The best advice I was given was to monitor my mood on a daily basis, as I was already doing with my insomnia diary and general personal diary. The catharsis of writing and recording also came with the recognition that moods, highs, lows, sleeplessness all came in phases, that changed – they got better, and they got worse. Unlike, when I suffered with depression for 6-8 years as that felt like nothing would ever get better. The Bipolar Mood Scale diary has helped me to hold out for the good days, and to manage my moods better.
Bipolar Mood Scale
Mania
10
Total loss of judgement, exorbitant spending, religious delusions and hallucinations.
9
Lost touch with reality, incoherent, no sleep, paranoid and vindictive, reckless behaviour.
Hypomania
8
Inflated self-esteem, rapid thoughts and speech, counter-productive simultaneous tasks.
7
Very productive, everything to excess (phone calls, writing, smoking, tea), charming and talkative.)
Balanced Mood (Euthymia)
6
Self-esteem good, optimistic, sociable and articulate, good decisions and get work done.
5
Mood in balance, no symptoms of depression or mania. Life is going well and the outlook is good.
4
Slight withdrawal from social situations, concentration less than usual, slight agitation.
Mild to Moderate Depression
3
Feelings of panic and anxiety, concentration difficult and memory poor, some comfort in routine.
2
Slow thinking, no appetite, need to be alone, sleep excessive or difficult, everything a struggle.
Severe Depression
1
Feelings of hopelessness and guilt, thoughts of suicide, little movement, impossible to do anything.
0
Endless suicidal thoughts, no way out, no movement, everything is bleak and it will always be like this.
0-10 Scale of mood from depression to mania
Being or having bipolar – people's attitudes to which verb to use varies, should not be romanticised. It is both a blessing and a curse, and for some is very hard to live with. I've made friends with mine, though it is still unpredictable. I've come to appreciate the moment, mindful that it can change, but I take the rough with the smooth now. Hopefully, I can look back on past suicide attempts as distant memories, and seize the creative periods to be productive and expressive, whilst trying to rein it in when it tips into hypomania.